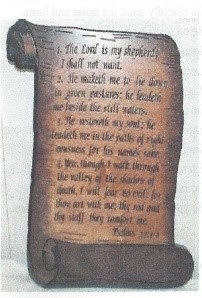 Based on a totally immersed childhood of Sunday school, Bible school, scouts & cubs, Christian young people's groups, Christmas and Easter concerts, all connected to weekly church services and ceremonies, I have always been internally conscious of my religious faith. However, it was not until age 50, that I abruptly became obsessed with writing religious poems, stories and playlets.
Along with hundreds of singular poems, my achievements over the years have included the following: two dramatic playlets respectively titled "The Christmas Story" and "The Easter Story," popular New Testament stories in the 1st person; paraphrased oft recited scripture; a collection of Jesus stories; a volume of "song poems," sealed by personal accounts of a 1st person encounter with my Creator. Yes, I am blessed, beloved and highly favoured.
What you will read in this web chapter attests to the influence of an "anointing" by the Holy Spirit!